A lot has happened in the almost three weeks since my last blog post. At that time, we were in Washington state. We left Washington and made the long trek (60 miles) to Sam Owen Campground in Hope, Idaho. We were campground managers at Sam Owen for the past three summers and loved the area. Miles wanted to visit and enjoy the lake which is something we didn't really get to do while working there.
Lake Pend Oreille from Sam Owen Campground, Hope, Idaho
We enjoyed a lunch of pizza and huckleberry pie with our friends who were our area managers while working there. Unfortunately, the next day Miles made the mistake of eating some cut-up cantaloupe we had bought and ended up with salmonella and spent three days in the hospital. He was violently ill and in horrible pain, but the doctor, hospital staff, and meds got him back in shape and on the road to recovery. During that time I didn't do much of anything other than visit him in the hospital and a favorite quilt shop in Clark Fork, Idaho, just 8 miles from the campground where I scored some fun goodies. Unfortunately, I did nothing quilty during our stay there. We didn't have electricity and it was hot so I sat outside with Lola, our pound pup, trying to stay cool and rethinking our trip.
Affordable Quilting and Fabric Shop, Clark Fork, Idaho
Needless to say, we didn't get to visit our friends in Libby, Montana as we stayed several days longer in Idaho then we had expected. We finally left Idaho and stayed three nights in an RV park in Turah, Montana for the hubs to recoup. While there I did get my fabric cut for the Meadow Mystery Quilt.
Meadow Mystery Quilt fabric all cut and labeled
We are currently in Wyoming near Pinedale staying at the Wind River View RV Park which we are enjoying. Some of the highlights here have been the gorgeous sunsets and watching the Osprey which have a nest within the park. The chicks are now flying.
Sunset from Wind River View RV Park
Osprey nest in the Wind River View RV Park
Pinedale has a wonderful quilt shop, Heritage Quilts and Fabric Shoppe, which I've visited a couple of times and was able to pick up some more of the Northcott Sandscapes collection which I needed for their contest/challenge. I had hoped to make the wall hanging out of 1/2" hexagons, but it just isn't going to happen. I will get it made at some point, but too late to enter it.
1/2 " hexies from Northcott's Sandscapes collection
I have been able to stay caught up with the Snowflake Shimmer Quilt Along by Yvonne over at Quilting Jetgirl. We have started piecing blocks and here are mine. Next instructions will come out
Snowflake Shimmer QAL progress
I've been very fortunate and have won a few things the last few weeks. I won a Busy Hands Quilts pattern from a random giveaway for those that participated in the Repeat QAL by Elm Street Quilts. I chose Scrappy Patches:
I also won a quilt pattern from Lorna at Sew Fresh Quilts for participating in the Mid Year Preview over at Yvonne's Quilting Jetgirl blog. I chose the Black Birds pattern.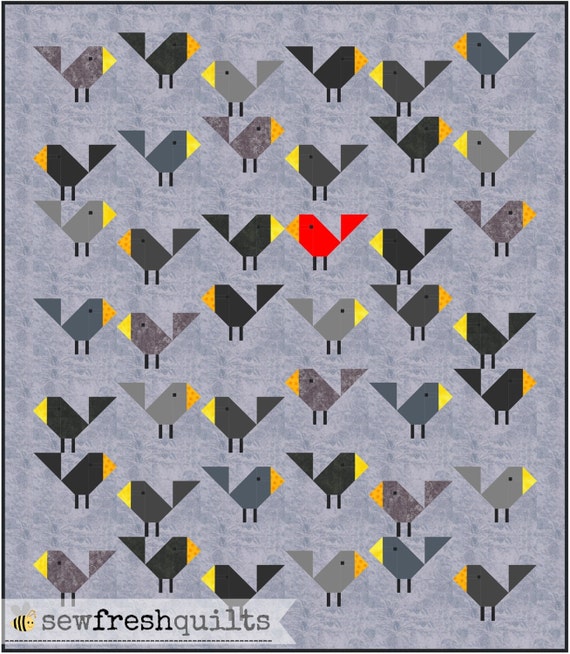 And, as a participant in the 2nd Snowflake Shimmer QAL link-up I won an Aurifil Chipper, 10 small spool collection.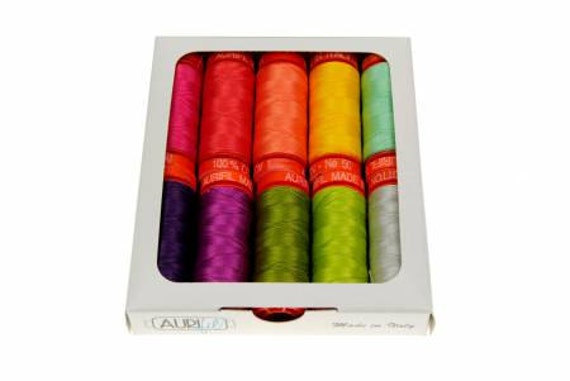 I guess I should run out and buy some lottery tickets. Many thanks to all those that offer giveaways and the individuals/companies that provide their products. I am forever grateful.
Tomorrow we will be leaving for Colorado with an overnight stay in or near Rawlins, WY. My grandson's wedding is on August 27th and I'm so excited for him and his wife-to-be. The wedding is being held in my daughter's beautiful back yard so prayers for good weather are requested.
Linking up with Let's Bee Social over at Sew Fresh Quilts and

WIPs With Friends

over at Mama Spark's World. Be sure to hop on over there to check out all the blogger links.