Today I'm linking up to WIP Wednesday over at Freshly Pieced. Many thanks Lee.
I have been working on Rosette 9 on The New Hexagon Millefiore Quilt Along and I should get that one finished tonight. I have been totally obsessed with this project and don't seem to be working on anything else, but I must take a break and work on some other projects.
My grandson's quilt must get finished and in the mail. His birthday is coming up in December. I will be adding a border to the backing to solve the issue of it being the same size as the front and since I will be free motion quilting it, the backing needs to be a few inches larger than the top. Thank you to one of my readers, Ivani, for the suggestion. She does some lovely work so check out her blog here.
So far I have pin basted all my large quilts even though I have had 3 cans of 505 in my quilting supplies. I've been worried that they will come apart during the quilting process since some of my practice sandwiches have. I guess I may need to use more spray a large quilt. I also watched two videos on a different technique for hand basting large quilts. Here are the links for those tutorials:
I'm wondering if anyone out there has tried this process and can tell me their experience using it. It would be greatly appreciated.
I'm still waiting on the next block for the Christmas Mystery Quilt Blog Hop and some wool that I've ordered to start a felted wool stash.
I found a really, really cute sewing machine cover on Instagram that I ordered the pattern for and will be shopping my stash to make it. You can order this pattern on Esty from Rainbow Hare.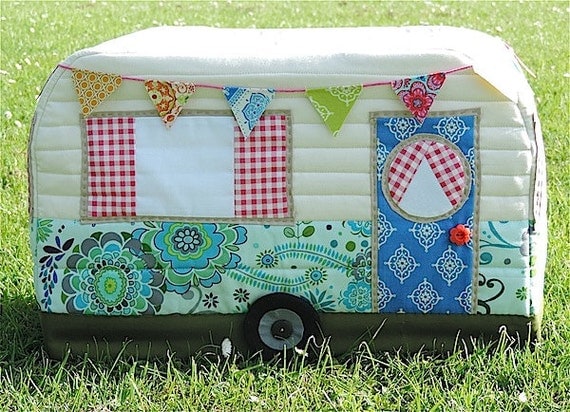 This week we have been having some beautiful sunsets so I thought I would share one of those with you.

Our medical and dental appointments have been moving right along and we actually don't have too much going on during the month of November. I go in to the eye doctor on November 4th to schedule my cataract surgeries and I'm hoping those can be done in November or December, at the latest, as we are still hoping to be back on the road right after Christmas or New Years.